A new Trend Report from DZone highlights the move to cloud databases. The report paints a bright picture for cloud database adoption, with roughly half of developers asserting that all of their organization's data will be stored in the cloud in three years or fewer. You can get a copy of the report from SingleStore.
DZone has issues a new trend report on cloud databases. In the report, leaders in the database space focus on specific use cases, calling out the factors that help you decide what you need in any database, especially one that's in the cloud.
The advantages of cloud databases include flexibility to scale up and scale back, easier backups of data, moving database infrastructure out of house, and offloading some database maintenance.
SingleStore is a database that runs anywhere Linux does, on-premises and on all three major cloud providers – AWS, Google Cloud Platform (GCP), and Microsoft Azure. SingleStoreDB Cloud is a managed service with the SingleStore database at its core. SingleStoreDB Cloud is available on AWS and GCP, with Azure support to follow soon. The SingleStore Kubernetes Operator gives you the flexibility to manage this cloud-native database with cloud-native tools.
SingleStore is also a fast, scalable SQL database that includes many features that are normally claimed only by NoSQL databases: easy scalability, fast ingest, fast query response at volume, and support for a wide range of data types, especially JSON and time series data.
Between SingleStoreDB Self-Managed (the version you download and run on Linux), and SingleStoreDB Cloud, the advantages of cloud databases – scalability, easy and reliable backups, and moving both infrastructure and maintenance out-of-house – are readily available, on a solution that's also identical on-premises.
The report points out several interesting facts:
Slightly more than half of organizations that have a cloud database solution in place have had one for two years or less.

More than two-thirds of cloud database users either use multiple clouds (40%) or are seriously considering doing so (26%).

Analytics is the #1 reason for moving databases to the cloud, with modernization of existing apps and becoming cloud native also ranking highly.

The database as a service (DBaaS) model, represented by SingleStoreDB Cloud and many other options, has a slight lead over those who use a self-managed database.

About half of respondents believe all of their data will be in the cloud in three years or fewer.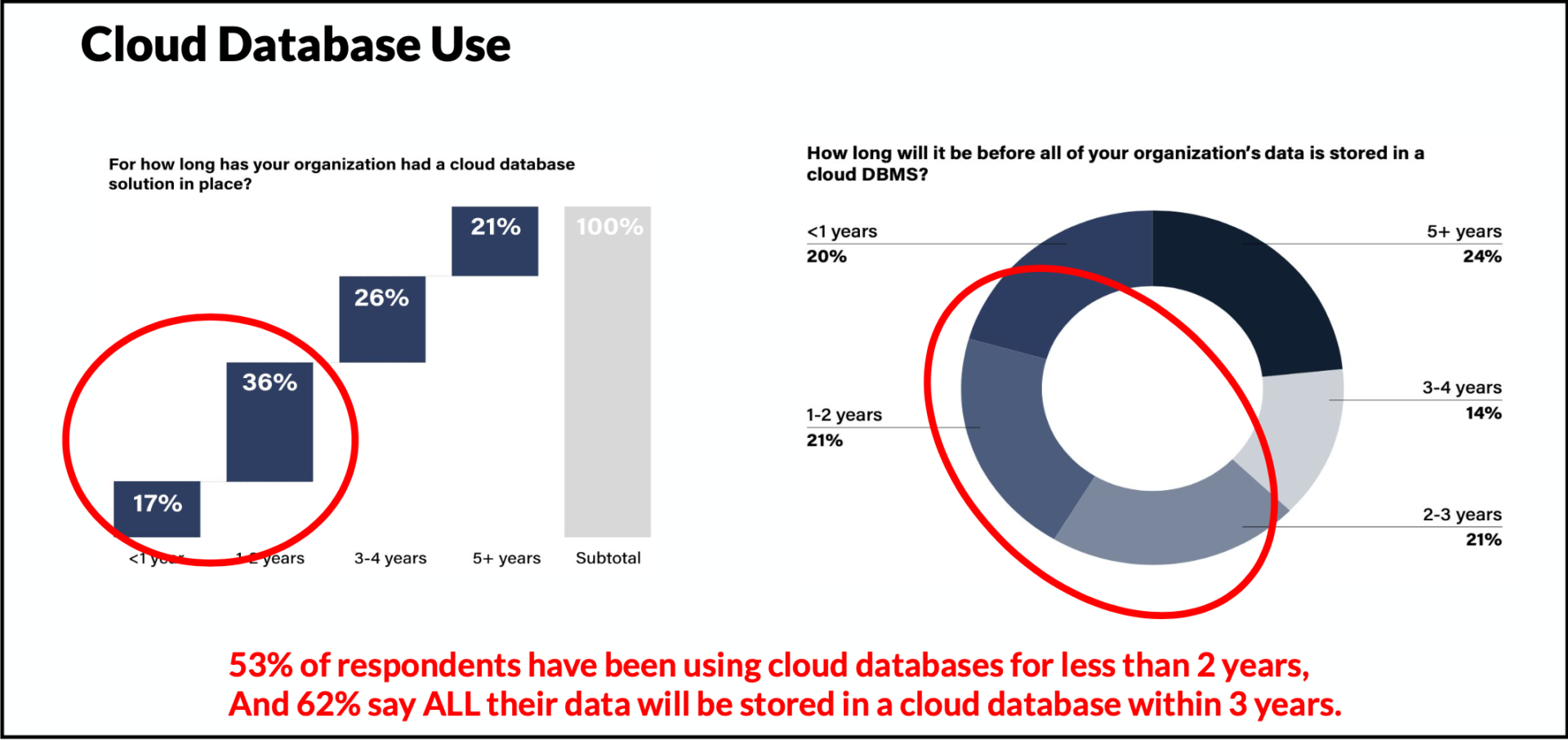 The report goes on to interview Adam Ballai, CEO at RevOps, in depth about the research findings.
You can access a copy of the report from SingleStore. This version includes a customer case study from Thorn, which seeks to eliminate child sexual abuse from the Internet, using machine learning, AI – and SingleStore. You can also try SingleStore for free.