The community of SingleStore users, developers, and employees gathers at the SingleStore Forums to ask questions, offer support, and discuss strategies for leveraging SingleStore. Got a nasty error message? Post it on a Forum. Want to suggest a feature? Same thing.
What the SingleStore Forums Do
The SingleStore Forums are organized into topics. Topics include:
Announcements

. All the latest from SingleStore and partners.

Feature Requests

. What you want to see in SingleStore going forward.

Cluster Operations

. Managing your SingleStore clusters.

SingleStore Studio

. Get your questions answered about SingleStore's cluster monitoring and debugging tool.

SingleStore Management Tools

. Ask about tools in the SingleStore Toolbox package and SingleStore Ops.

Third-Party Integrations

. Using SingleStore with third-party tools and frameworks that work with SingleStore, such as Kafka and Spark.

SingleStore Development

. If you're developing against SingleStore, put your questions and comments here.

Uncategorized

. A catchall category.

Site Feedback

. Tell us how to improve the Forums.
The great thing about the Forums is the mix of people aboard. SingleStore engineers, experienced SingleStore users from organizations large and small, new users, and students all come on, asking and answering questions, from the simplest to the most arcane. Everyone pitches in to help.
One of the things that makes it fun to create and use SingleStore is that it is, fairly literally, a computer science project. Building and using "the next great database," which is our goal, touches on all sorts of problems. They range from the momentary and entirely practical – "my cluster just crashed" – to the architectural, mathematical, and sometimes almost philosophical. It all gets hashed out on the Forums.
Ziv to the Rescue
This was the beginning of a long exchange that eventually totaled 17 pages over 5 days. It ended with Haoran recognizing a bug in the beta, described in detail in his final message in the exchange. SingleStore found and fixed the cause of the bug immediately, and the new and improved code will appear in SingleStoreDB Self-Managed 7.0 soon.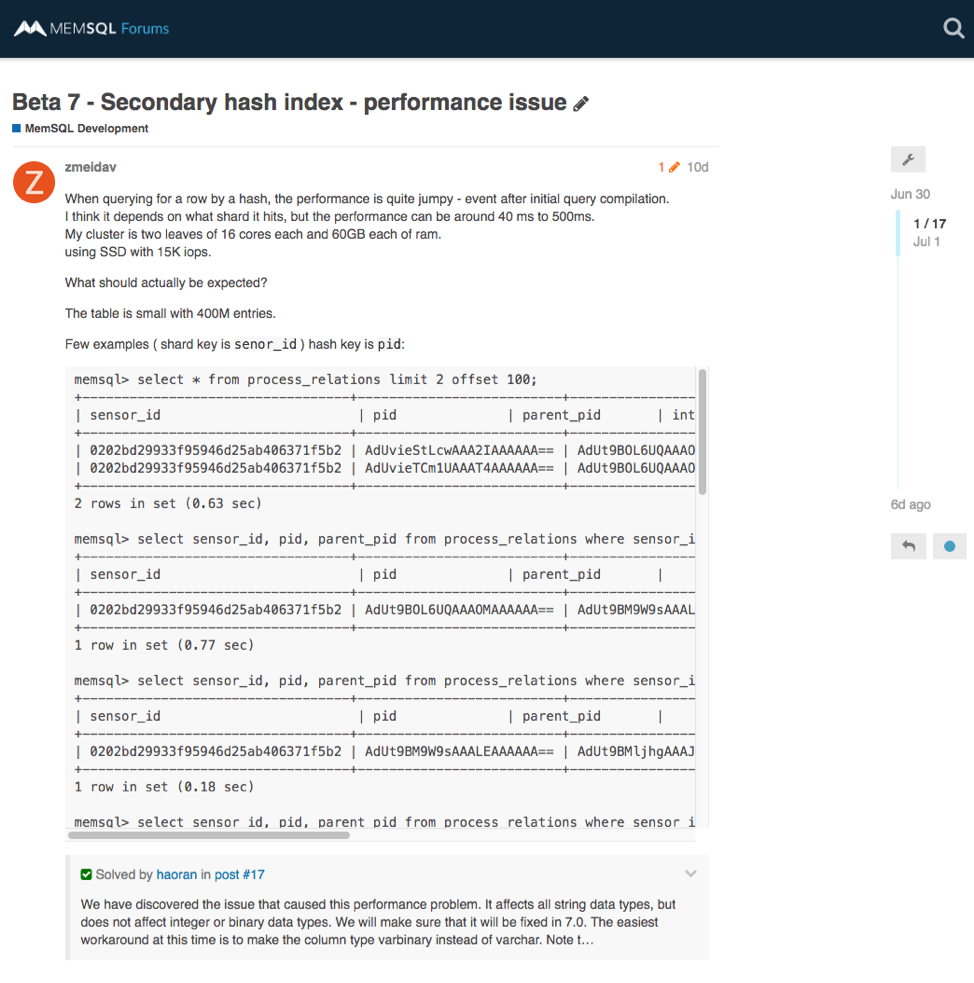 Another strong contribution is a question about optimizing a specific query, also from Ziv. The exchange generated by this question yields considerable insight into how SingleStore handles many different kinds of queries and how to optimize them.
As you see here, the Forums, with questions like Zivs', help SingleStore people as well as customers. Through the Forums, we learn about bugs, documentation issues, feature requests, and more. Software work can be very individual; through the Forums, SingleStore people and customers from around the world can work together to make SingleStore better.
Conclusion