SingleStore is headed to Gartner Business Intelligence and Analytics Summit next week. We'll be focusing on real-time analytics with our own VP of Engineering kicking off a live demo on day one of the show.
For the following days, we'll be tracking the hot topics in real-time analytics, the new Magic Quadrant for Data Warehouses, IoT, Spark, Relational Databases, In-Memory Computing, and Machine Learning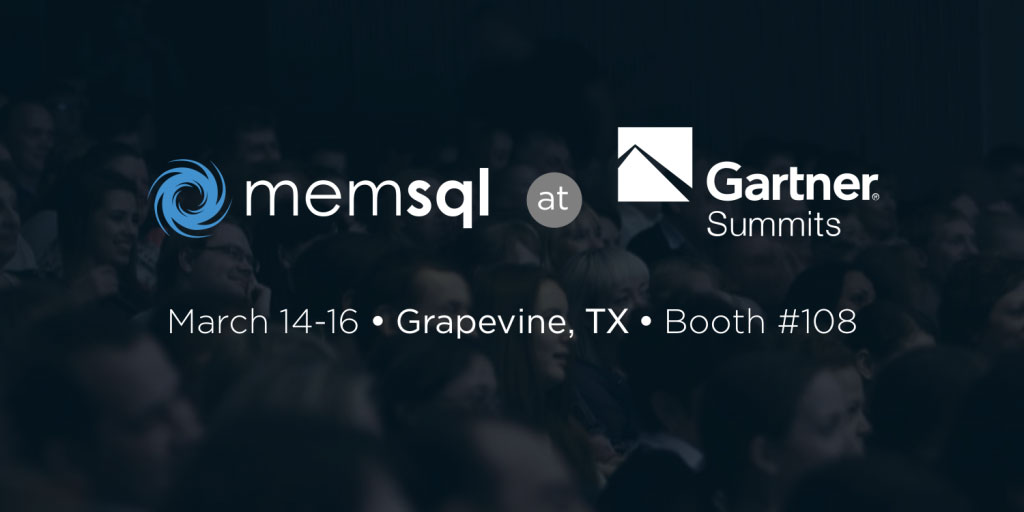 There are dozens of phenomenal sessions at Gartner BI. Our favorites are listed below and if you are around, there is a good chance you'll see us too. Drop a line via twitter @SingleStoreDB if you want to catch up.
Monday, 14 March 2016, 12:45 PM – 1:05 PM
SingleStore: Winning the On-Demand Economy with Spark and Predictive Analytics
Ankur Goyal, Vice President of Engineering, SingleStore
@ankrgyl
Today's on-demand economy drives companies to provide fast load times, personalization, and instantaneous service for hungry end-users across all types of applications. Yet most still use dated, legacy systems to process and analyze data. In this session, Ankur Goyal, VP of Engineering at SingleStore will showcase implementing a one-click Lambda Architecture with Apache Spark, Apache Kafka and an operational database, resulting in lightning fast analytics on large, changing datasets.
Monday, 14 March 2016, 4:15 PM – 5:00 PM
Magic Quadrant Power Session: Data Warehouse and Data Management Solutions for Analytics
Mark A. Beyer, VP Distinguished Analyst, Gartner
@metadatabeyer
Disruption in the data warehouse technology market accelerates with the demand for broader data management solutions for analytics expanding to address multiple data types, distributed processing and repository options. Information leaders and CIOs will often find that extending existing solutions with technology combinations yields more flexible results. Old leaders are facing very significant challenges from new entrants in both vision and execution in 2016.
Tuesday, 15 March 2016, 9:45 AM – 10:30 AM
Six Best Practices for Real-Time Analytics
W. Roy Schulte, VP Distinguished Analyst, Gartner
The need for real-time analytics — including predictive analytics, complex-event processing (CEP), and other techniques — is growing quickly in almost every industry. BI and analytics leaders need to understand the wide variety of available technologies, and these six essential best practices on how to use them. Key issues: • What business situations use real-time analytics today? • How does event stream processing differ from other BI and analytics? • How will decision management change BI, analytics, BPM and app development?
Tuesday, 15 March 2016, 3:00 PM – 3:30 PM
To the Point: Is Apache Spark the Future of Data Analysis?
Nick Heudecker, Research Director, Gartner
@nheudecker
With its fast, in-memory processing and analytical framework, Apache Spark has quickly attracted interest from developers and software vendors. What role will Spark play in your information management and analytics story?
Wednesday, 16 March 2016, 8:15 AM – 8:45 AM
To the Point: Is There a Future for Relational DBMS?
Donald Feinberg, VP Distinguished Analyst, Gartner
@Brazingo
Is there a future for RDBMS or will it finally fall to NoSQL and other new technologies? Gartner continues to receive many questions about the future of RDBMS and whether new technologies will replace it. We will address this issue and discuss the future trends in RDBMS.
Wednesday, 16 March 2016, 2:45 PM – 3:30 PM
In-Memory Computing and Big Data: Architecting for New Velocity Needs
Massimo Pezzini, VP & Gartner Fellow
@mpezziniGartner
Real-time processing of large volumes of fast moving data coming from sensors or machine generated data enables digital innovation but challenges traditional approaches to information infrastructure. Discover how emerging in-memory computing technologies can help through concrete case studies.
Wednesday, 16 March 2016, 2:45 PM – 3:30 PM
Machine Learning Drives Digital Business
Alexander Linden, Research Director, Gartner
Machine learning — already one of the most versatile technologies of the past decade — supports an amazing array of advanced analytics use cases in digital business. Here we discuss basics, benefits, pitfalls and vendor selection.
See you at the show – Booth 108
SingleStore will also be exhibiting at booth 108. Drop by for a free copy of our book on Building Real-Time Data Pipelines and see a live demo of PowerStream, our latest IoT showcase application.