Gartner Data and Analytics Summit kicks off next week in Grapevine, TX where SingleStore CTO Nikita Shamgunov will showcase the power of real-time for Chief Data Officers who are faced with transitioning their data warehouse applications to the cloud.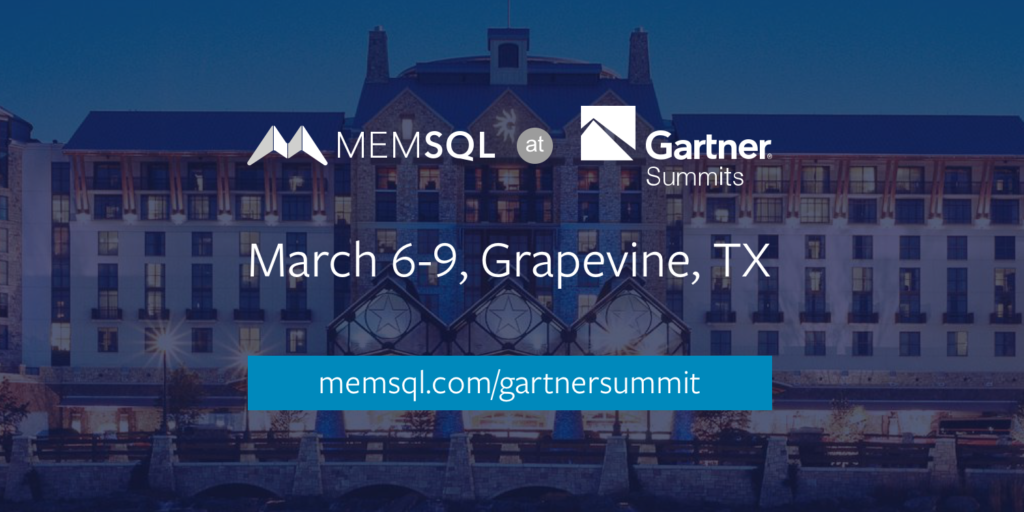 Gartner Data and Analytics Summit features 8 tracks that will address top challenges facing data and analytics leaders. SingleStore executives and Gartner Analysts will deliver sessions on the benefits of a faster data warehouse throughout the summit. Our top sessions are listed below.
Monday, 6 Mar 2017, 6:00 PM – 6:20 PM
SingleStore: Creating an IoT Kafka Pipeline in Under 5 Mins
Gary Orenstein, SingleStore
@garyorenstein
In this session, Gary Orenstein will conduct a live IoT demonstration, building a real-time data pipeline using Apache Kafka to capture real-time data from millions of sensors. This demo combines Apache Kafka a real-time data warehouse, and machine learning to highlight the power of predictive analytics in industry applications.
Tuesday, 7 March 2017, 9:45 AM – 10:30 AM
Magic Quadrants for Data Management and Integration, and Master Data for Analytics and Beyond
Andrew White, VP Distinguished Analyst, Gartner
@mdmcentral
Mark A. Beyer, VP Distinguished Analyst, Gartner
@metadatabeyer
The old world of managing data just for transactions or just for analytics is being challenged. This session cuts across and through the old markets for data warehousing, master data management and data integration tools and covers the strengths of existing platforms as the evolve toward their new role to support broader data governance in the digital business era.
Tuesday, 7 March 2017, 3:45 PM – 4:30 PM
SingleStore: The Real-Time CDO and the Cloud-Forward Path to Predictive Analytics
Nikita Shamgunov, CTO, SingleStore
@NikitaShamgunov
The success of Chief Data Officers requires a focus on business improvement, often by productizing and commercializing information assets. Learn the principles of modern enterprise data warehouse platforms, and how the multi-cloud, real-time, and machine learning present new opportunities. This session will feature business and strategy examples, as well as live technical demonstrations showing the power of an operational data warehouse – one that can ingest data in real-time and concurrently execute the most sophisticated SQL queries.
Thursday, 9 March 2017, 8:00 AM – 8:45 AM
Delivering on Digital Business With Stream Processing and Real-Time Analytics
Roy Schulte, VP Distinguished Analyst, Gartner
Event streams are data in motion, used in ERP, IoT, CRM, HCM and other digital business applications. Data and analytics leaders need to understand stream processing concepts and determine where and how to apply them. What are events, event streams and stream analytics? How do streaming applications differ from traditional BI and data management? What are the trends in open source and commercial streaming products?
Thursday, 9 March 2017, 10:30 AM – 11:15 AM
How Machine Learning Extracts Knowledge From Data
Alexander Linden, Vice President, Gartner
@Alex42Linden
Machine learning — already one of the most versatile technologies of the past decade — will support an amazing array of advanced analytics use cases in digital business. In this session we will discuss basics, benefits, pitfalls and vendor selection. How does machine learning work? What are the challenges and pitfalls? How can you get started?
See you at the show – Booth 423
SingleStore will also be exhibiting at booth 423. Drop by for a free copy of our book – The Path to Predictive Analytics and Machine Learning, see a live demonstration, and enter for a chance to win a drone!
Book a SingleStore Demo at Gartner Data and Analytics Summit ⇒
Last week we announced that Gartner has positioned SingleStore as a Challenger in the 2017 Magic Quadrant for Data Management Solutions for Analytics.