In December 2022, we launched the  SingleStore Partner Program and SingleStore Connect, our comprehensive partner directory. Our goal is to provide ISVs with the tools and resources they need to grow and succeed in the real-time, operational database market.
The SingleStore Partner Program is designed to offer ISVs a comprehensive support system. Our dedicated partner managers work closely with our partners to understand their business goals, helping them make the most of our technology. Our training and certification programs are designed to provide partners with the knowledge they need to succeed, while joint marketing and sales opportunities help partners reach new customers and grow their business.
SingleStore Connect is a unique platform that connects ISVs with customers and partners looking for cutting-edge technology solutions. Our partner directory showcases our partners' products and services, making it easy for customers and partners to find and connect with the right ISV for their business needs.
Technology Partner Requirements

Technology Partnership Levels & Benefits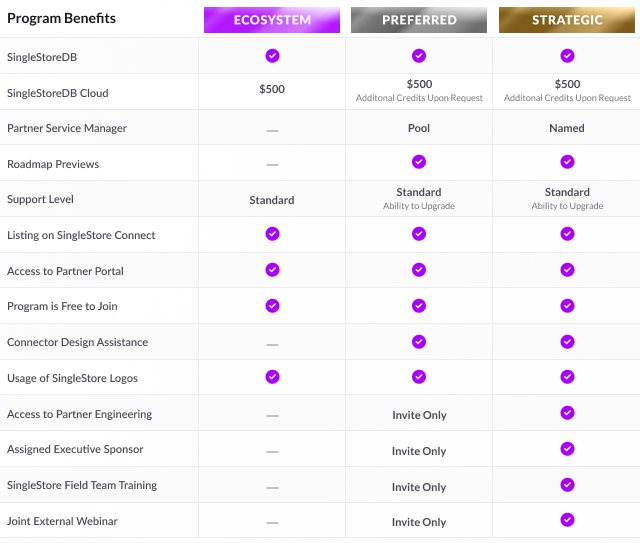 Partner Use Cases
There are a variety of use cases that SingleStore partners with ISVs on — here are a few of the most common we've observed since launching our partner portal: 
Data Visualization/BI 
Data Visualization and Business Intelligence (BI) tools play a crucial role in helping enterprises make informed decisions based on their data. By partnering with SingleStore, ISVs provide their customers with a powerful, scalable database that handles the high-speed processing and analysis of large data sets.
SingleStoreDB's fast data access and real-time analytics capabilities are ideal for organizations that need to make decisions quickly. With the help of SingleStoreDB's unified, flexible architecture, data visualization and BI tools can quickly and easily present data insights that drive better business decisions, improve efficiency and increase profitability.
Data Migration/CDC
Data migration and change data capture (CDC) are critical components of any organization's data management strategy. By partnering with SingleStore, ISVs help their customers manage their data more effectively, ensuring they have  access to the information they need, when they need it.
SingleStoreDB's ability to handle both transactions and analytics — as well as its high-speed processing capabilities — make it an ideal database for organizations looking to migrate or capture changes in large amounts of data. With SingleStoreDB's support for real-time applications and analytics, ISVs provide their customers with a powerful database that keeps pace as their needs evolve.
Data Streaming 
When it comes to message and event streaming, SingleStoreDB has a unique advantage. Our integration with popular platforms — like Kafka and Confluent — makes us a top choice for organizations looking to process real-time data streams.
By partnering with SingleStore, ISVs can offer their customers a solution that has the speed and scale to truly deliver on real-time analytics needs. 
AI & ML
For ISVs dealing in Artificial Intelligence (AI) and Machine Learning (ML) , partnering with SingleStore is a smart choice. SingleStore offers a range of product capabilities that make it ideal for machine learning. Our vector processing capabilities allow for fast and efficient processing of large amounts of data, which is essential when working with machine learning algorithms.
Our in-database machine learning functions, including  linear regression, mean-variance optimization and k-means clustering enable organizations to perform complex machine learning tasks right within the database, reducing latency and improving efficiency.
Additionally, SingleStoreDB seamlessly integrates with popular machine learning platforms like TensorFlow and PyTorch, making it easy for organizations to  add ML models into their existing workflows. This also allows organizations to easily incorporate predictions and insights generated by their ML algorithms into their business processes, driving value and improving overall efficiency.
Data Security & Governance
By partnering with SingleStore, ISVs can offer their customers a database that puts security first and  provides strong data protection, including encryption at rest and in transit, data masking and role-based access controls. This helps ensure that you meet your data security and compliance requirements, while minimizing the risk of data breaches. 
In addition, SingleStoreDB offers detailed audit logging and reporting capabilities, enabling organizations to monitor and track data access and usage. This  helps you safeguard your data, ensuring it's used appropriately and complies with regulations like GDPR, CCPA and HIPAA.
Additionally, SingleStoreDB's integration with leading security and governance tools like Apache Ranger and Apache Atlas, makes it easy for organizations to enforce their security and governance policies.
If you're an ISV looking for a partner program that provides the support, training,and resources you need to succeed, we invite you to join the SingleStore Partner Program. For customers and partners looking for innovative solutions, be sure to check out SingleStore Connect .
Join us as we build the future of real-time, operational database technology. We can't wait to connect with you!