2017 was a good year for the database market as developers, architects, and business leaders explored what is possible with new platforms.
We covered several hot topics on the SingleStore blog including the integration with microservices, recognition by industry analysts, machine learning and image recognition, real-time geospatial analytics, and multi-tenancy in a cloud world.
Here are a few of our favorite posts from 2017.
SingleStore Meets the Microservices Architecture
Microservices captured application developer attention in 2017 and our own Dale Deloy shared his take on how SingleStore fits this ecosystem.
Each application service component has its own independent service deployment and flexible data model. The goal is to allow developers to focus on building business logic rather than coordinating with corporate models and infrastructure constraints.
Gartner Magic Quadrant for Data Management Solutions for Analytics
This Magic Quadrant showcases leaders in data warehousing, and SingleStore placed as a challenger, recognized in particular for its operational data warehouse capabilities.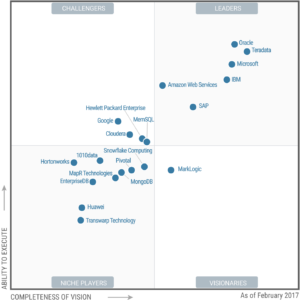 Gartner analysts Simon James Walker and Michael Patrick Moran also identified real-time data as a top priority for data and analytics leaders in the report, Three Top Trends in Master Data Management Solutions Through 2017, highlighting the following impacts and recommendations:
Real-time data has emerged as a Master Data Management (MDM) priority for data and analytics leaders, with high availability master data a key capability as data volume, velocity and variety increases
Multidomain and multivector MDM enable digital business to advance from "collecting" data for a single data domain to "connecting" several data domains
Improved packaged industry MDM solutions are accelerating time to value, enabling data and analytics leaders to deliver successful MDM programs
An Engineering View on Real-Time Machine Learning
In this post, Eric Boutin, Director of Engineering at SingleStore, answered a few questions including:
What do you see next in terms of new innovations in this arena?
I would like this field to innovate from two different directions. On the one hand, I would like to see databases support more and more algebra primitives to allow expressing more complex machine learning models. For example, supporting matrices, vector/matrix operators, aggregation across multiple vectors, and so on. This would allow expressing a growing number of machine learning algorithms in SQL. Even neural networks can be expressed as a sequence of scalar and vector operations. I would then like to see machine learning framework 'push down' algorithms into databases using SQL.
Video: Real-Time Analytics at UBER Scale
Catch the details of the video and slides from Strata Data Conference San Jose, Real-Time Analytics at Uber Scale.
Database Multi-Tenancy in the Cloud and Beyond
Multi-tenancy is a game changer for software-as-a-service and other applications. Understand the differences between approaches from a database perspective from SingleStore teammate, Alec Powell.
Ringing in the New Year
Stay tuned for more from SingleStore in 2018. If you have any topic requests feel free to ping us on Twitter @SingleStoreDB.