The 2016 Gartner Catalyst Conference kicks off on August 15-18 in San Diego and will feature over 150 sessions for technical professionals. The conference offers eight in-depth tracks on topics including data centers, data and analytics, security, software, mobility, cloud, digital workplaces, and the Internet of Things.
This year, Gartner has chosen the following theme to guide the experience at Catalyst: Architecting the On-Demand Digital Business. Each track at the show reinforces the importance of embracing modern architecture in order to sense, adapt, and scale businesses for long-lasting impact. There will be valuable opportunities to hear directly from leading analysts, who spent months researching and analyzing industry trends. Here are six sessions and a SingleStore speaking session that we recommend to stay on top of real-time data trends:
From Data to Insight to Action: Building a Modern End-to-End Data Architecture
Monday, 15 August 2016, 9:30 AM – 10:15 AM
Carlie J. Idoine, Research Director, Gartner
@CarlieIdoine
For years, IT organizations have been dealing with a steady rise in the volume, velocity and variety of data. But now, unprecedented new data sources, such as IoT, are pushing infrastructures to the limit. This session defines a bold strategy and highly-scalable data management architecture built upon technologies such as cloud computing, predictive analytics and machine learning that scale, respond automatically, and unlock enormous business value.
Ingesting and Transforming IoT Data in the Cloud: Amazon AWS IoT, Microsoft Azure IoT Hub and IBM Watson IoT Platform
Monday, 15 August 2016, 11:20 AM – 12:05 PM
Lyn Robison, Research VP, Gartner
Building a scalable data management architecture starts with data ingestion. Using their scalable infrastructure, many of the hyperscale cloud providers have begun to offer data ingestion services. But will they work? Do they truly scale? This session explores the new data ingestion and stream processing services offered by cloud service providers: AWS, Azure and IBM.
SingleStore: Real-Time Supply Chain Analytics with Machine Learning, Kafka, and Spark
Monday, 15 August 2016, 1:30 PM – 1:50 PM
Ankur Goyal, Vice President of Engineering, SingleStore
@ankrgyl
In today's real-time world, enterprises like Kellogg and Macy's are embracing predictive analytics to improve supply chain operations and drive revenue. In this session, Ankur Goyal, Vice President of Engineering at SingleStore, will demonstrate an application for global monitoring of distribution centers to determine supply and fulfill demand. With Apache Kafka, Spark, machine learning, and SingleStore, this showcase application predicts which centers are at risk of production failures, which can result in insufficient supply.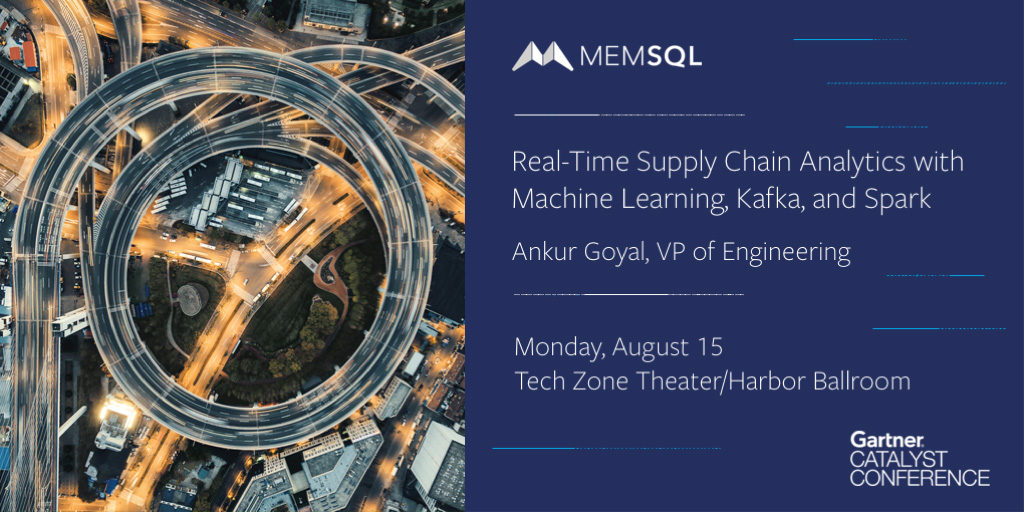 Architecting Real-Time Data — Really?
Monday, 15 August 2016, 2:30 PM – 3:15 PM
Svetlana Sicular, Research VP, Gartner
@Sve_Sic
Life is accelerating, patience is diminishing, interest in real time is increasing. But what is "real time" — today or a nanosecond? How do architects implement low-latency solutions that are just in time? What is possible now and what should wait? Architects of real-time solutions have a variety of choices that will be explored in this session: popular architectures — Lambda and Kappa, in-memory data stores, or supercomputer-type processing acceleration.
Workshop: Adopt Data Federation/Virtualization to Support Analytics and Data Services
Tuesday, 16 August 2016, 2:10 PM – 3:40 PM
Mei Yang Selvage, Research Director, Gartner
@data_mei
Data virtualization (DV) — aka data federation — accelerates analytics and delivers data services for operational applications. It also provides a shared data access layer, which is essential for digital business. But DV also has many constraints such as performance and data quality. This workshop provides a systematic architectural approach to select proper DV use cases and document rationals.
Assessing Hybrid Architectures for Cloud Computing
Wednesday, 17 August 2016, 9:30 AM – 10:15 AM
Alan D Waite, Research Director, Gartner
@Alan_D_Waite
Most traditional IT organizations have existing data centers that need continued support while cloud technologies are adopted. Organizations will increasingly live in a hybrid world with some applications in the public cloud and others in data centers. Gartner sees a hybrid IT world emerging in four distinct deployment scenarios, which we review in this session.
Roundtable: Closing the Loop – Operationalizing Predictive and Prescriptive Models
Wednesday, 17 August 2016, 1:35 PM – 2:35 PM
Carlie J. Idoine, Research Director, Gartner
@CarlieIdoine
Developing robust predictive and prescriptive models is only the first challenge with leveraging advanced analytic successfully within an organization. Join this session to discuss techniques for deploying and operationalizing analytic models to "close the loop" on adding real business value.
Stop by the SingleStore Booth
There will be complimentary copies of our O'Reilly book Building Real-Time Data Pipelines and great swag! Members of the SingleStore team will be available for questions and will also be demonstrating live our latest machine learning application. Drop by to learn why SingleStore is the only startup featured on the right quadrant of Gartner's Magic Quadrant for Operational Database Management Systems and Magic Quadrant for Data Warehouse Solutions for Analytics!
After day one at the show join us for Happy Hour on Monday, August 15, from 6:00 pm to 8:00 pm at Lion's Share located at 629 Kettner Blvd., San Diego, CA 92101. RSVP HERE ⇒