Tableau Conference 2016 kicks-off in Austin, Texas on November 7-11, offering data engineers and business intelligence pros a place to gather and learn how to utilize data to tell a story through analytics and visualizations.
SingleStore will be exhibiting the native connectivity and high performance partnership with Tableau using the Tableau SingleStore connector at TC16. Additionally, SingleStore will present a new showcase application, SingleStore Springs: Real-Time Resort Demographic Analysis. This demonstration showcases live customer behavior by demographic across resort properties, visualized with a Tableau dashboard. Attendees will learn how to natively connect Tableau to SingleStore for enhanced dashboard performance and scalability by visiting the SingleStore booth.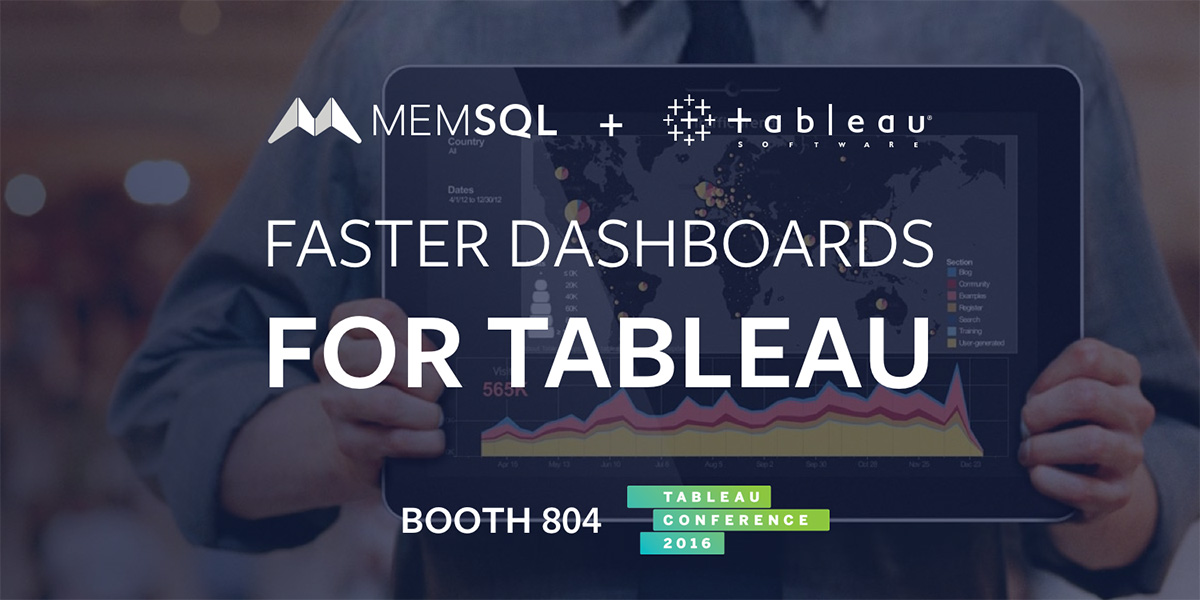 With over 400 speaking sessions to choose from at Tableau Conference, deciding the right session to attend can be a challenge. Discover how to utilize Tableau to capture and analyze data faster than ever with these five recommended sessions:
ETL as Easy as ABC: Data Prep for Tableau with Javascript
Is your data unavailable natively in Tableau? Not a problem. There is a multitude of options for preparing it and making it available to your business users via Tableau APIs. Whether you're a long-time data engineer looking to dive into JavaScript for the first time or a seasoned JavaScript developer looking to get her feet wet in the Tableau developer ecosystem, this session is for you.
When: 12:15pm to 1:15pm
Where: ACC – L3 – Room 10C, Theatre
Speaker(s): Eric Peterson, Tableau
Connecting to Gnarly Data Sources
New and novel databases are rapidly coming on the market. Come learn how to connect and unleash the power of data stored in these systems. In this session, we will cover:
– What makes named connectors special
– How to use Tableau Data Connectors to improve ODBC (Open Database Connectivity) connections
– When to use a Tableau extract or a Web Data Connector
When: 10:45am to 11:45am
Where: ACC – L3 – Room 5A, Theatre
Speaker(s): Arthur Gyldenege, Tableau | John Kew, Tableau
IoT Dashboards to Make Sense of Sensor Data
Analyzing sensor data can be overwhelming. How should you structure the IoT (Internet of Things) data? How do you create an overview monitor?
When: 1:45pm to 2:45pm
Where: Hilton – L4 – Room 400, Theatre
Speaker(s):Vaidy Krishnan, Tableau | Marius Kaiser, Tableau
How to Build a Culture of Data-Driven Analytics
Companies today are on a journey to become data-driven. The pace and growth of data demands that every employee in your organization becomes a "data person" but shedding the hangover of the last 30 years of BI might be difficult. How can you leverage empowered analytics (self-service) to change the way your organization works?
When: 10:45am to 11:45am
Where: JW Marriott – L3 – Lone Star Ballroom D, Theatre
Speaker(s): Paul Lilford, Tableau
Faster Tableau Dashboard Demo at the SingleStore
Visit the SingleStore booth #804, located in Hall 5 of the Austin Convention Center, to receive a complimentary copy of the company's O'Reilly Book: The Path to Predictive Analytics and Machine Learning, as well as a chance to win an Estes Proto-X Drone.