In this blog post, we guide you through what to expect when you sign up for a new SingleStoreDB account. Explore our Quick Start Checklist, find out how to invite your team members, where to go when you need expert support and more.
Table of Contents
SingleStoreDB Cloud
Have you tried SingleStore before? If not, we're very excited to have you! By signing up to use SingleStoreDB Cloud, you have a lot of options to explore — and we're here to guide you through this journey.
The onboarding checklist
On the "Start" page, you will find a list of items we consider important for your experience. We encourage you to follow this list, and get your tasks completed along the way.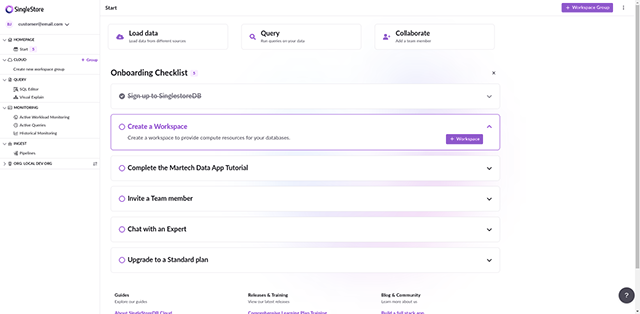 Create a Workspace
To experience SingleStoreDB, you need the power compute to deal with your workloads and data. This first step focuses exactly on that: creating your first Workspace. If you want to learn more, check out our documentation on Workspaces. After you complete the creation form, your Workspace will be deployed. A few minutes later, it will be ready for action!
Marketing tech ("martech") app tutorial
If your Workspace is ready and you want to test SingleStoreDB capabilities without having to load your own data, look no further. We have a small guide prepared for you, where, in a few minutes, you can have SingleStoreDB powering analytics and transactions in a real app while ingesting live data.
In this guide, we take you through different functionalities and different steps where you can run queries against this dataset. The last step allows you to use a real app, connected to your Workspace, where you can watch SingleStoreDB serve ads to millions of simulated subscribers based on their behavior, purchases, request history and geolocation.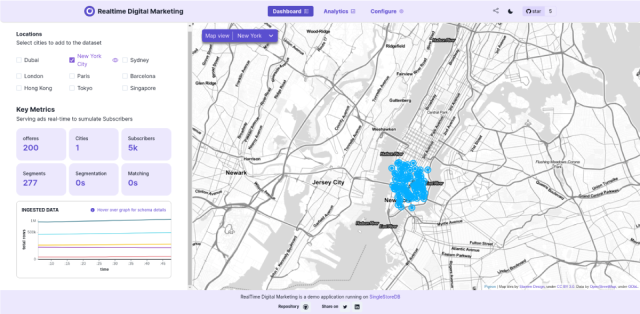 Inviting a team member
Every team is better with members! Invite your colleagues to your SingleStore organization and explore the product together. They will have access to the organization's workspaces, and you can share data with them.
Chat with an expert
If you feel like you could use some support from a SingleStore engineer, we are here to help. Book a 30-minute slot on our calendar and we will assist you in every way we can.
Upgrade your plan
When you sign up to SingleStoreDB, you get free credits to test the product and make sure it's the right solution for you. When you feel ready, you can add a payment method to make sure you have plenty of credits to make your product thrive!
The help menu
On your bottom right corner, you'll find a small popup menu where you can access plenty of guides, tutorials and links to our documentation. There are tutorials to use sample data and to even load your own data — whether you want to ingest from a Cloud Service (such as AWS S3, Microsoft Blob Storage or Google Cloud Storage), stream data from Kafka or a file in your file system.
You can also find links to our self-paced training or SingleStore Forums, where you will find a lot of information and a space to get your questions answered.
If you need our help, select the  "Chat with us" option to prompt a live session with one of our team members.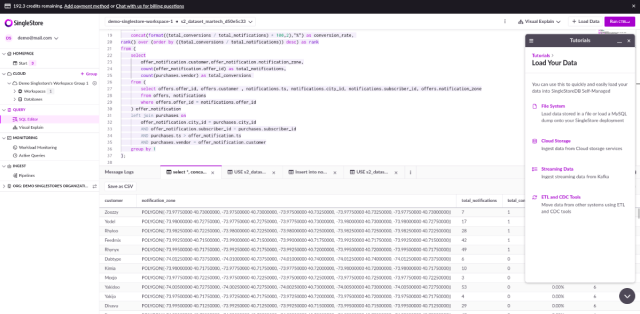 Query Playground — No Sign Up Required!
Would you like to test drive SingleStoreDB, before you sign up or set up your trial?  We've got you covered. The SingleStoreDB Query Playground is available for you to start playing with several of our preloaded datasets right away. We even provide a list of example queries, so you can use them without needing to come up with your own.
While the Query Playground is fully functional, it's important to note that the performance might not be as good as what you can achieve by setting up a dedicated Workspace.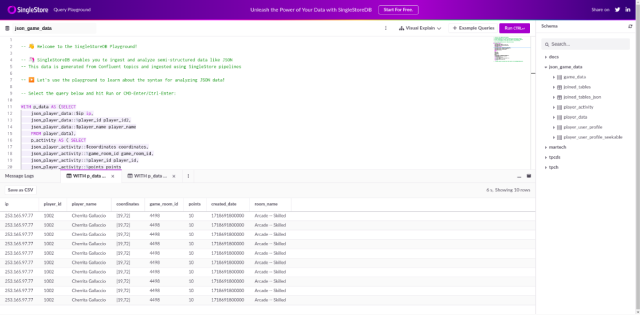 As you begin to explore SingleStoreDB, our team is always here to help. Check out some additional resources for how it works, loading and querying data, integrations and more: