SingleStore has spent the last six years on a single mission: developing the fastest, most capable database on the market for a new generation of workloads. Today's businesses are beginning to win or lose on their ability to use data to create competitive advantage, and technology teams at these companies need data infrastructure that can meet an increasingly broad set of requirements, perform well at scale, and fit easily with existing processes and tools. SingleStoreDB Self-Managed 6.8 is the latest release of the database that meets this challenge.
Whether accelerating and simplifying the use of data to improve customer experiences, or accelerating analytics to drive better decision-making and optimize operations, both legacy databases and the current sprawl of specialty tools are failing for many data professionals.
Today, we are proud to announce that we have reached an amazing milestone. SingleStore is the first database with true shared-nothing scalability, enabling essentially unlimited scale, to provide outstanding results on performance tests derived from three leading industry benchmarks: TPC-C, TPC-H, and TPC-DS.
These results are now possible with our latest software releases. We are announcing the general availability of SingleStoreDB Self-Managed 6.8 and the first beta release of SingleStoreDB Self-Managed 7.0. SingleStoreDB Self-Managed 6.8 offers even faster analytics performance and advanced security for Hadoop environments. The SingleStoreDB Self-Managed 7.0 beta previews new, mission-critical transactional capabilities for system of record applications and even more dramatic query performance improvements.

Proving Database Scale and Performance for Both Transactions and Analytics
We believe that the newest analytical systems and data-intensive applications, which include streaming, real-time decisions, predictive decisions, and dynamic, personalized experiences, represent a new set of workloads, which we call operational analytics. Operational analytics involves a specific combination of key database features, notably fast ingest through transaction processing, fast processing, and low-latency queries for reports and dashboards.
Current industry benchmarks were designed to individually highlight the capabilities of different kinds of databases, since no one database, until recently, could run both transactional and analytics workloads at any scale. Yet that is exactly what today's real-time and near-real-time operational and analytical data management environments require.
In order to demonstrate what SingleStore can do for these use cases, we performed unofficial runs of different benchmarks from the TPC family. This allows us to showcase that SingleStore has the broad capabilities, performance across use cases, and scalability required today.
The results were astounding. Using a single database product on standard cloud hardware, SingleStore was able to meet or beat the results of databases designed for only doing either transaction processing or analytics – not both. SingleStore is the only modern database that can successfully perform, scale, and deliver the full breadth of capabilities required to support today's demanding analytics and operational applications.
If you would like to learn more about these benchmarks, we've documented our infrastructure configuration, the detailed results, and comparisons to other database products in our benchmark blog post.
But Wait, There's More … Product Improvements in SingleStoreDB Self-Managed 6.8
We are also excited to highlight the new capabilities in SingleStoreDB Self-Managed 6.8. Our drive to build a fast, easy to use, enterprise-capable database means ongoing work to both optimize query performance and to ensure comprehensive security capabilities.
In SingleStoreDB Self-Managed 6.8, we introduced two key improvements: improved query performance and advanced security for Hadoop environments.
Improved Query Performance
We optimized our query compilation feature set to deliver what we call interpret-first query compilation. This innovative feature automatically speeds up first-run queries commonly used in ad hoc analytics environments, or when one-off queries are required.
We see a 5x speedup of CUBE and ROLLUP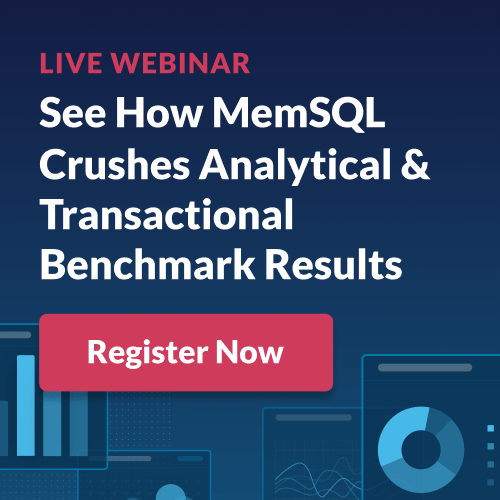 queries with the new optimizations. ROLLUP queries let you calculate subtotals and grand totals for a set of columns, while CUBE queries let you calculate subtotals and grand totals for all permutations of the columns specified in the query. We also saw a nearly 5x performance improvement for a range of JOIN queries. You can learn more about our query performance improvements on our blog post here.
Advanced Security for Hadoop Environments
SingleStore has had pipeline support for HDFS since SingleStoreDB Self-Managed 6.5. HDFS pipeline support allows SingleStore to quickly and easily ingest data from Hadoop environments, with SingleStore providing faster ANSI SQL query response, leveraging its power as a fully distributed database.
Now, with SingleStoreDB Self-Managed 6.8, we have added Kerberos support for HDFS pipelines, along with wire encryption for over-the-wire data delivery, to provide support for security standards which are commonly used in Hadoop deployments. You can read more about our HDFS security improvements at our blog post here.
To learn more about SingleStore and our improvements with SingleStoreDB Self-Managed 6.8, please join our upcoming live webinar. You can also sign up for our benchmarking webinar. Or, you can get started with SingleStore for free today.