The Big Data Innovation Summit kicks off in Boston today, uniting some of the biggest data-driven brands, like Nike, Uber, and Airbnb. The conference is an opportunity for industry leaders to share diverse big data initiatives and learn how to approach prominent data challenges.
We are exhibiting at booth #23 and will showcase several demos: MemCity, Supercar, and Real-time Analytics for Pinterest. On top of that, we will have games and giveaways at the booth, as well as complimentary download of the latest Forrester Wave report on in-memory database platforms. More on what to expect:
Demos
MemCity – a simulation that measures and maps the energy consumption across 1.4 million households in a futuristic city, approximately the size of Chicago. MemCity is made possible through a real-time data pipeline built from Apache Kafka, Apache Spark, and SingleStore.
Supercar – showcases real-time geospatial intelligence features of SingleStore. The demo is built off a dataset containing the details of 170 million real world taxi rides. Supercar allows users to select a variety of queries to run on the ride data, such as the average trip length during a determined set of time. The real-world application of this is business or traffic analysts can monitor activity across hundreds of thousands of vehicles, and identify critical metrics, like how many rides were served and average trip time.
Pinterest – In this demo, Pinterest maps the location of repins as they happen in real-time across the United States. Each pin is filtered and then enriched with geolocation and pin category information. The enriched data is persisted to SingleStore using the SingleStore Spark Connector and is made available for query serving.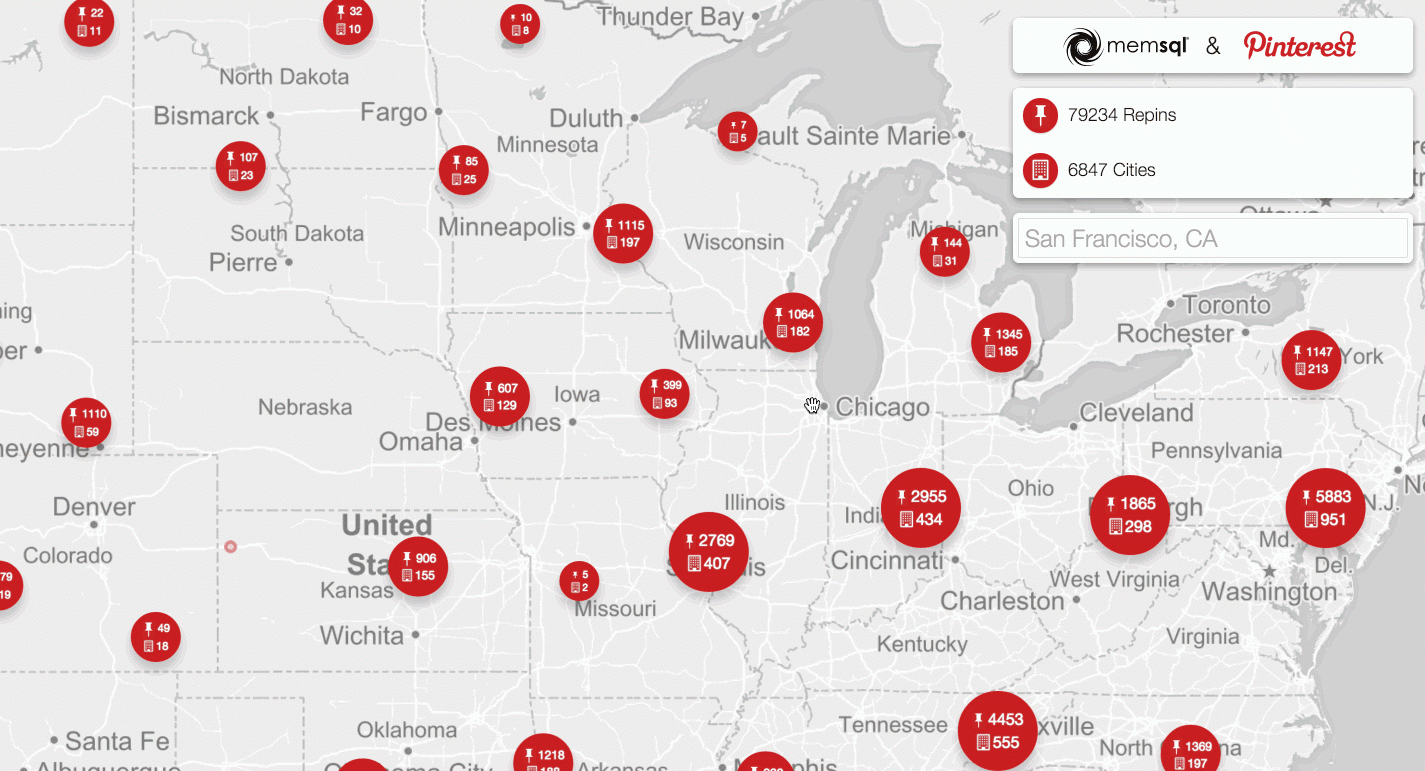 Forrester Wave: In-Memory Database Platforms
Recently, SingleStore was featured as a Strong Performer in The Forrester Wave: In-Memory Database Platforms. Stop by the SingleStore booth at Big Data Innovation Summit to find out why SingleStore received high scores in the subcategories of scale-out architecture, performance and scale, and product road map. You can also download a complimentary copy of the report here: singlestore.com
Games and Giveaways
As always, we will be giving away our latest t-shirts at the event. Stop by to get yours, and play our reaction test game for a chance to win an Estes ProtoX drone.
Hope to see you there!